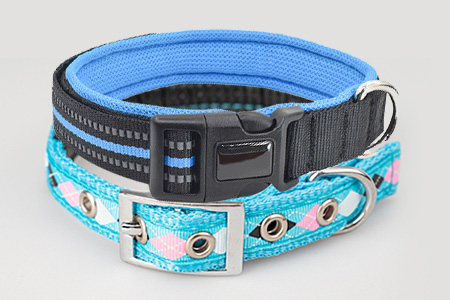 Is Breakaway Needed For Pet Collar?
Pet collars are designed to keep pets safe all the time, they can be decorated with different accessories, the breakaway is included. Usually, pet collar without breakaway is a standard model. Collar with breakaway is more commonly used for cats. It's also called a 'Safety' or 'Quick Release' collar, say with a certain pressure, the buckle can auto-release so that the pet can escape in an emergency easily.
---
The collar without breakaway buckle is most typical for dogs, it doesn't release when the dog hijinks or tugs. Typically, the breakaway requires the pet owner to open it by pressure. We recommend to use with a leash for safer factors.
Actually, pet collars with both versions are purchased in bulk, it just depends on your preference. Welcome you to customize your unique pet collars !
Related Products

The tribal pattern nylon dog collar with a reflective strap is made of imported reflective...

Details

Pattern dog bowtie collar from Brilliant features a wide variety of colors, sizes, and patterns...

Details

Our wholesale rope dog collar with a superior quality and wide varieties products to win warm...

Details