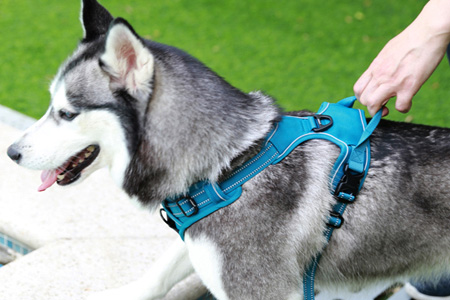 What's The Variety Of Dog Harnesses?
Dog harness from Brilliant comes in a wide variety of sizes and materials like nylon, cotton, leather, or more. In Brilliant, you can find multiple dog harnesses with any function demand. The major functions of dog harnesses are dog walking harness and dog mobility harnesses.
---
Dog walking harnesses are the most common gear for dogs, they are helpful for owners to control their dogs walk aside. The most popular styles include the following items:
● Front Clip Harnesses - It has the leash attachment in the center of the dog's sternum.
● Back Clip Or Step-In Harnesses - The ring that for leash connecting is on the top of the dog's back.
● Vest Harnesses - The D-ring for the leash is on the dog's back, far away from the dog's throat. They can close in back or front.

Dog mobility harness is also called support harness, they are used for dogs in arthritic, aging, injured, or recovering. They are featured with a large padded surface so that the weight can be distributed evenly. Many mobility harnesses come with walking accessories, such as handles or leashes.
Choose A Proper Dog Harness To Lead Or Walk Your Dog Better
The dog harness is not just an upgraded version of the control pull or a safer collar. By choosing the appropriate specific type of dog harness, you can get the corresponding functions according to different breeds of dogs, body types and specific walking habits. With a little dog, you can have the leash clip on the back, so that the leash is not dangling in front of it. The vest-style harness that is stretchy and breathable yet still strong enough can be able to handle a tugging small or medium size dog. The front clip harness is very suitable for large dogs. Unlike a simple dog collar, a dog harness can reduce the pressure on their neck and make the dog more comfortable to wear.
Related Products

The wholesale dog saddlebag backpack from Brilliant uses the ultra-lightweight yet durable...

Details

Pattern Dog harness set 7- piece walking accessories contain air mesh dog harness, neoprene...

Details

The Wholesale 3-piece walking essential dog harness set from Brilliant includes a gentle bowtie...

Details